The Best Pathway
It was a beautiful afternoon in Cumnor. I stopped at the top of Seven Sisters overlook, where I usually take a pause on my walk to pray, wonder, and "have a think," as the British love to say.
This particular afternoon I prayed for direction for our family, for the leading of God as to the next venture our family of five is to embark upon. It's hard to top an international move with three girls under the age of five, but we've committed to living a life of faith and following the Lord wherever the path may lead.

But what happens when the pathway isn't clear? The path to England was so abundantly clear, but now?

After a few moments of prayer, I began my descent through the woods leading to Boars Hill. It is is by far one of my favorite stretches of English countryside to wander. The path meanders through dense forest trees, and breaks open at the end upon a grassy knoll where sheep graze. As I ran down the path, I noticed the trail wasn't always clear. At times, as I was running, the trail would almost seem to completely disappear but then suddenly I was on the path again, and it was as visible as can be.

At that moment the Holy Spirit spoke to my spirit as clear as if He were running along beside me, and said, "This is how I direct sometimes. Sometimes it is like it was the year before you moved to England. You can see the trail for a long distance ahead of you and you know exactly where you are going in plenty of time. Other times, it is not always so clear until you are right up on it.

"Sometimes my direction and leading are not so long-term in advance. At times, I show you the path right when you are on it, with little preparation. But there it is. Clear as day. The path is there. All along I have been leading you."

And that peace that surpasses man's understanding, flooded my soul right there in the woods as I heard His words of truth.
We may not know exactly where the path is leading until we are right up on it. But we need to keep walking by faith, following ahead on the little bit of path we can see. We can rest assure that He is leading.
All the way our Shepherd leads us. Making level paths for our feet.

Straight Paths

I continue to seek direction for the path God has for us, and even this week he continues to speak to me about pathways as I read Proverbs 3:6 over morning coffee, " ... He will make your paths straight."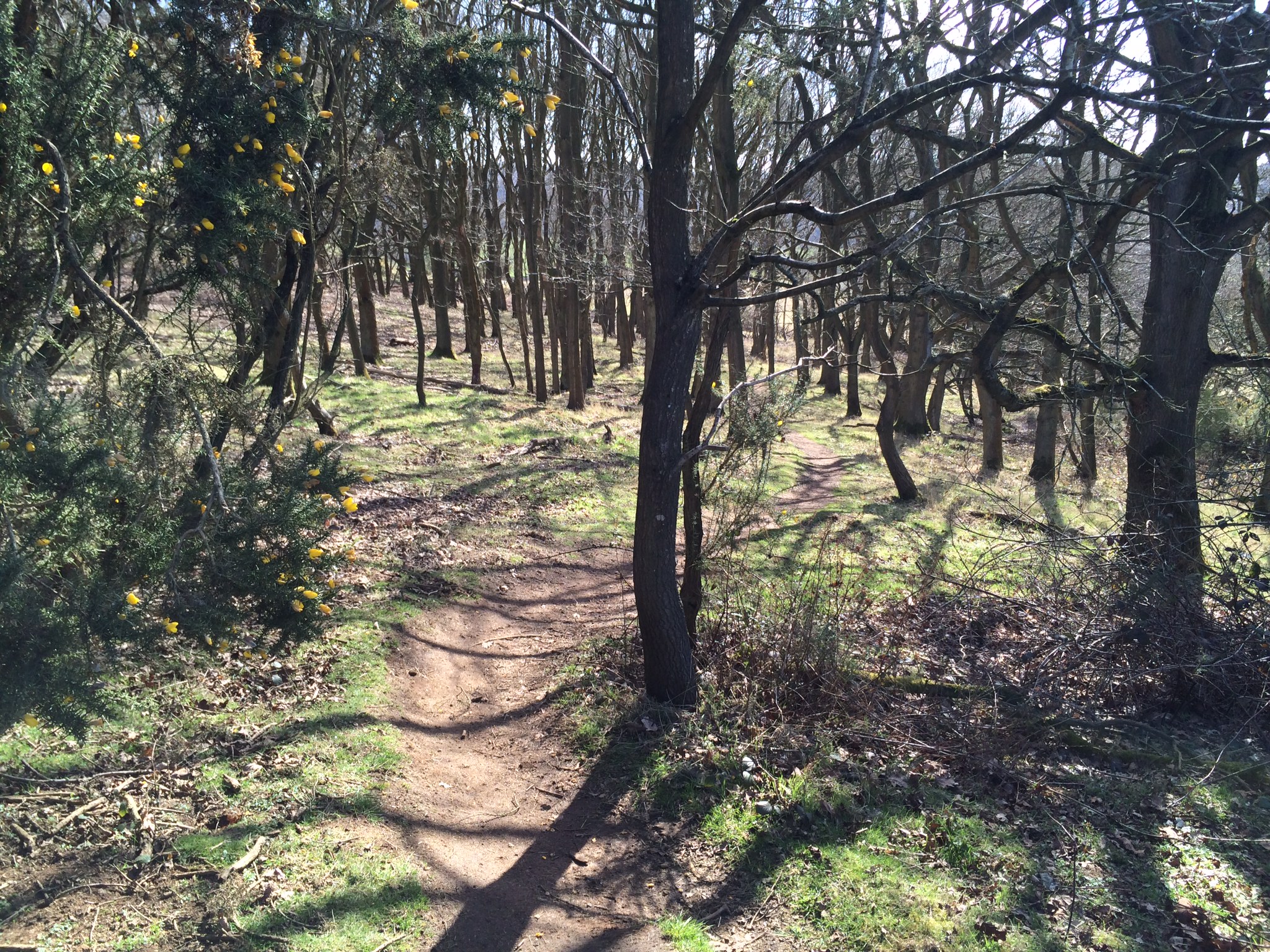 What does it mean to make your paths straight?

The Hebrew pronoun in this passage is emphatic, meaning "he himself" will make a way straight. God is binding himself by a covenant to us. The verb is translated in the Greek as ὀρθοτομῇ meaning to "cut straight." I can almost picture God's own hands carving out a path, removing obstacles out of the way, making our footing sure. As John Gill's Exposition of the Bible beautifully states, "He keeps the feet of His saints."

He keeps my feet upon the paths He has set before me.

"I guide you in the way of wisdom and lead you along straight paths," cries Proverbs 4:11. Wisdom leads to straight paths. Oh, Lord, give us a heart of wisdom. That we may hear your voice and recognize it enough to follow you.

Unfailing Love Surrounds

I only shared with Tim the Spirit's words to me in the woods and his teaching of the pathway. But on Friday, my mother sent me a simple email that contained only a verse. As I read it, I was reduced to tears as a reminder that he himself is carving out our path with his own two hands. And that pathway is best. The Scripture read:

"The Lord says I will guide you along the best pathway for your life ... unfailing love surrounds those who trust in the Lord ... so rejoice in the Lord." Psalm 32:8-11

My mom didn't know that I had been crying out to the Lord for weeks, asking him to show us the path. She didn't know the words he whispered to my spirit in the woods with his still, small voice. Yet, the promise was there, God himself will guide you along the best pathway for your life.

We can rejoice when the path is unclear.
We can rest in the promise that unfailing love surrounds.
We can be still and know that He is carving out the best path.

And, all the while, the trees whisper the echo of unfailing love in a still small voice calling, "Follow Me."